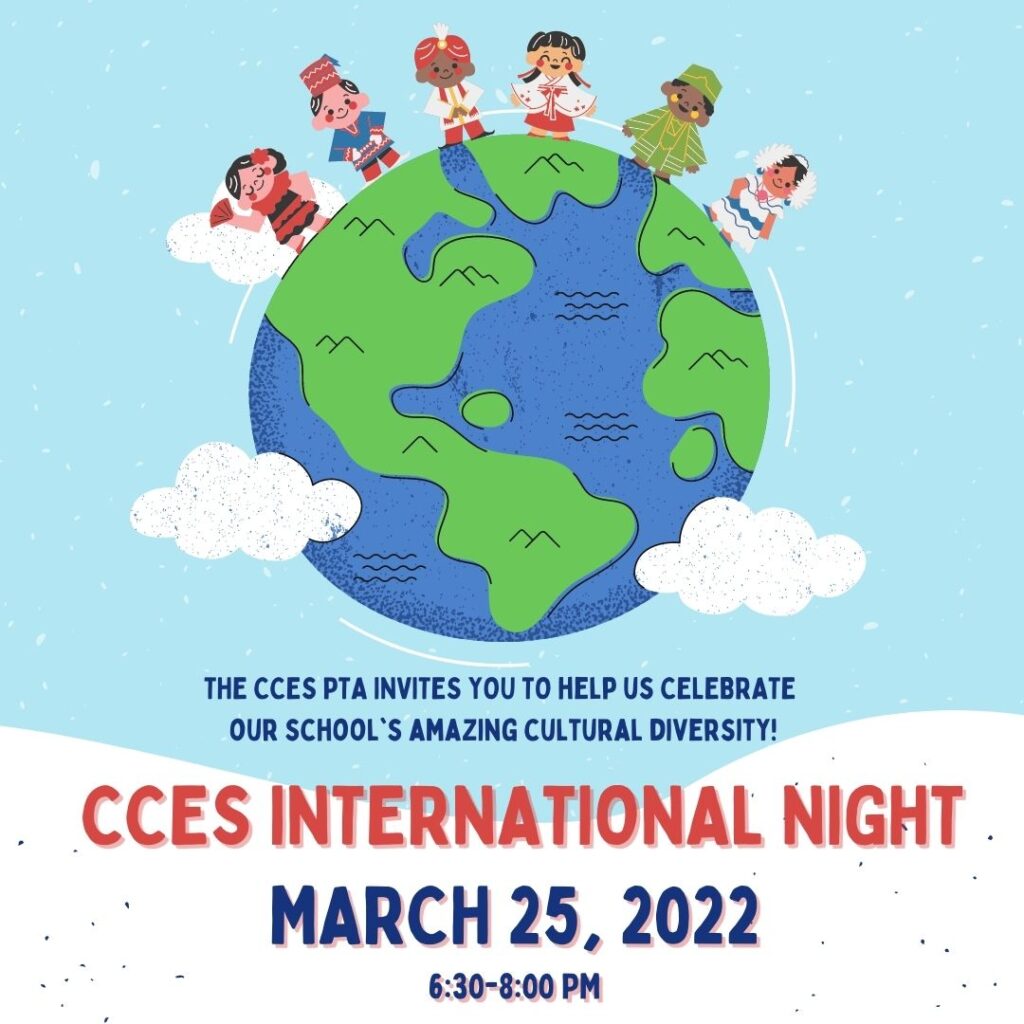 Clemens Crossing's International Night is back and in-person this year! On Friday, March 25th, we will celebrate the amazing diversity that we enjoy at our school. The event begins at 6:30pm featuring country tables and at 7:15pm we will enjoy a special presentation by West African drummer Kofi Dennis, who will bring the vibrant rhythms of a West African village to life through music, storytelling, drumming and dance. There will be an outside tent with tables available to eat outdoors.
We are looking for volunteers to host country tables during the event. Country table hosts will receive half of a cafeteria table sized space to display any items you would like to bring to represent your country – a trifold with facts, books, artifacts, and, of course, food! You can bring interactive objects for your table that will allow students to learn about your culture in a hands-on way – traditional objects, pictures, flags, jewelry, games, books, textiles, wooden objects, traditional toys or traditional clothing for students to dress up in, etc.. If you'd like to bring something small to give away to students, like temporary tattoos, stickers, toothpick flags, coloring pages, paper fans or easy crafts, that would be wonderful!
We have space for approximately 18-20 different countries. We would love to see multiple families team up to represent a single country/region, and we may be able to provide additional table space for teams. Please help us make this another amazing and fun event by sharing your culture or showcasing a country that you have a connection to with us!
If you are interested, please sign up as a country table host and indicate your country: https://www.signupgenius.com/go/30E0F4BA8A72CA2F49-international1 Once you sign up, we will reach out to you with additional details and answer any questions you might have.
Country table hosts are asked to arrive at 6:00pm to set up.
We are also looking for a few volunteers to assist with set up and clean up – if you are able to help with that, please sign up at the link above and THANK YOU!
If you have any questions, please contact us directly at [email protected].

Thanks!
Risa Carlson and Suzanne Papailiou, Cultural Arts Co-Chairs