If you have questions about any of the programs below, please contact our Retail Promotions chair c/o president@clemenscrossingpta.org.
Box Top Labels for Education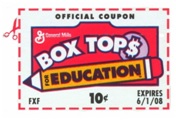 Earn cash for your class from trash! Every Box Tops label found on participating products earns 10 cents for our school. There are two ways to redeem Box Tops:
Clip: If your package has a traditional Box Top clip (see image), cut it out and send it to school with your child. Each grade level has a collection bin. We earn cash for all clipped Box Tops until they expire.
Scan: If your package has the new Box Tops label, use the Box Tops app to scan your store receipt within 14 days of purchase. The app will instantly add Box Tops to our school's earnings online.
Each grade receives a check twice a year for the number of Box Tops they collect. That's easy cash earned directly for your child's grade level program – the more Box Tops your grade brings in, the more cash your child's class receives!
AmazonSmile

When you shop on AmazonSmile, Amazon will donate 0.5% of the purchase price of eligible products to the charitable organization of your choice. Search for "Clemens Crossing Elementary School" to have your contribution sent to the PTA. After that, it's as easy as shopping at smile.amazon.com instead of amazon.com. You may want to add a bookmark to smile.amazon.com to make it even easier to return and start your shopping at AmazonSmile.
Market Day
After a five year absence, Market Day has returned. The company was purchased and relaunched to provide families with meal options. Market Day used to require pick-up at school on a designated day; now it ships food directly to your home or office.
Create an account at marketdaylocal.com and select Clemens Crossing Elementary as your school, then start shopping. Ten percent of every purchase is donated back to the school. For more details, see Market Day Q&A.