Box Top Labels for Education
Earn cash for your class from trash!  Simply save your Box Tops labels from participating products that you already have in your home.  Then send them to school with your child. Each grade has a label collection box.
Every Box Tops label collected earns 10 cents.  The photo below shows the portion of the Box Top that should be cut out and sent in with your child.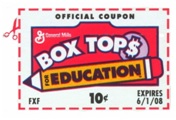 Each grade receives a check twice a year for the number of Box Tops they collect.  Last year, Clemens Crossing collected $1,600 from this program. That's easy cash earned directly for your child's grade level program – the more Box Tops your grade brings in, the more cash your child's class receives!
For a list of participating brands and products visit: btfe.com/products
Giant Food Stores A+ Rewards – Register Your Giant Card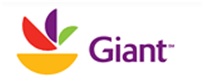 From September to March, each time you shop at any Giant using your Giant card, you will earn A+ points.  These points become CASH for our school!  To register for this program, log into your account at giantfood.com, select MY ACCOUNT, MANAGE MY ACCOUNT, then REWARDS & SAVINGS to select our school.
NOTE: You do not need to re-register your card if you signed up last year.
Don't forget to encourage your friends and family members to register their cards for CCES, too!
If you have questions about either of these programs, please contact the CCES Box Tops and Giant A+ Rewards Coordinator Julia Griffiths at jrgriffiths@verizon.net.